Whether is a matter of analogue or digital recording, archiving or destruction, there is hardly anything as specific to a company as its internal data and how it handles this data every day. We in Reisswolf Cyprus have responded to the changes needs of our clients by expanding the range of our services we provide and offer a business model tailored to any organizations requirements for growth and sustainability.
Simplicity "Everything should be made as simple as possible, but not simpler" (Albert Einstein). In Reisswolf Cyprus we believe that simplicity is the key element that will drive company's growth to unpresented levels of success by cutting out unnecessary processes and focus only on developing the business.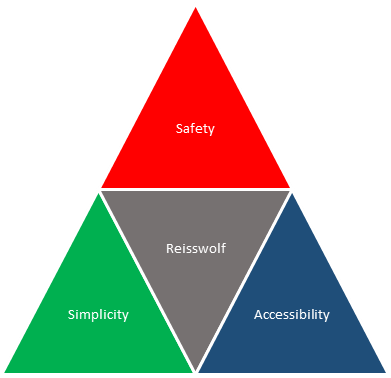 Parts of our added value services is to apply simplicity to any aspect of our business, whether it concerns the design and development of our Information Technology Applications or our internal processes.
The main objective behind the development of our unique Information Technology Applications is to the user interface must be clearly designed for the people so that people really want to use the application. The user needs to feel confident when dealing with technologies, they want to feel understood.
Our simplified and transparent processes have been designed and executed in such a way as to provide imminent traceability of every step in the Document Management Circle. Keeping up with simple and understandable processes our client can save time and money being in the right path for sustainability and profits.
Safety. REISSWOLF is best known for its closed service chain that plugs all security gaps. Our remarkable secure data protection policy complies with local and European regulations.
Our Certified Vault facilities and protocols can warranty the safety of your physical document archiving offering protection against fire and unauthorized access.
We guarantee that our customers' data is secure from the moment we collect it until its final destruction - and every step in between. This also concerns our staff. All of our employees undergo background checks before they are hired.
Accessability. The ultimate goal is to provide to all our clients the right tools to manage their data at every lifecycle, at any time, any place. As Data of all types has become a part of our everyday professional and private life, Reisswolf can warranty an uninterrupted and absolutely secure 24/7 access to any analog or digital data whether is being destroyed, achieved or digitized. Our Technological advantages enable us to establish entirely new corporation forms in which physical sites play a secondary role.
It is now possible to combine a large number of branch offices in a virtual company network. Whether the work across multiple departments, mobile sales or franchise partners, processes need to available transparently and centrally and accessible anytime resulting to an increasing productivity and reducing fixing costs.